I collect a few patterns of dinnerware. None of them are fancy or very valuable. They are just patterns I really like. They give me a homey feeling when I look at the them. I like to use them whenever we have people over for a special occasion and they fit right in with our nothing fancy house where we eat in the kitchen 'cause we don't have a dining room (and I like it that way). I also use the serving pieces when I take food to a family dinner at Christmas or Thanksgiving.

This is one of the patterns I collect.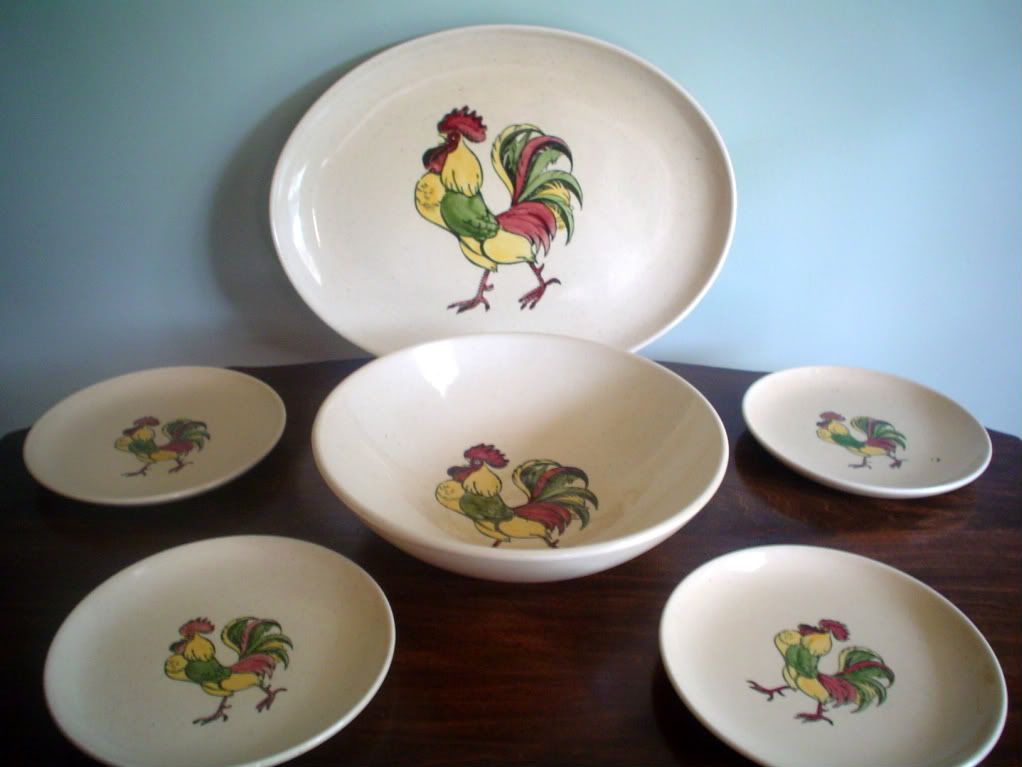 It was made by Metlox in the 1940's or 50's. It was never really given a name as far as I can figure, and was just offered as a premium to customers of A&P grocery stores in California. Because of that, the pattern is often called the Premium Rooster by those that know some of the history. (I've also seen it called the Skinny Rooster.) But since it was not widely distributed or sold, and because it doesn't really have a name, it is really hard to find any info on this pattern.
This also makes it very hard to find the pieces when you want to buy them, because people don't know how to describe it when selling it. I mean, what do you look for when searching for it on Ebay? LOL! There's no standard name for this pattern and it often doesn't even have the Metlox mark on it anywhere. So what you see, is everything I have of this pattern.
Usually, the rarer the pattern, the more expensive it is. But despite the fact that this one is hard to find, it's not really worth that much money --which is fine with me, 'cause I could not afford to collect it if it was. And since I only collect it because I like it, I don't care if the value of my "collection" is low.
Oh, and I almost forgot about this guy.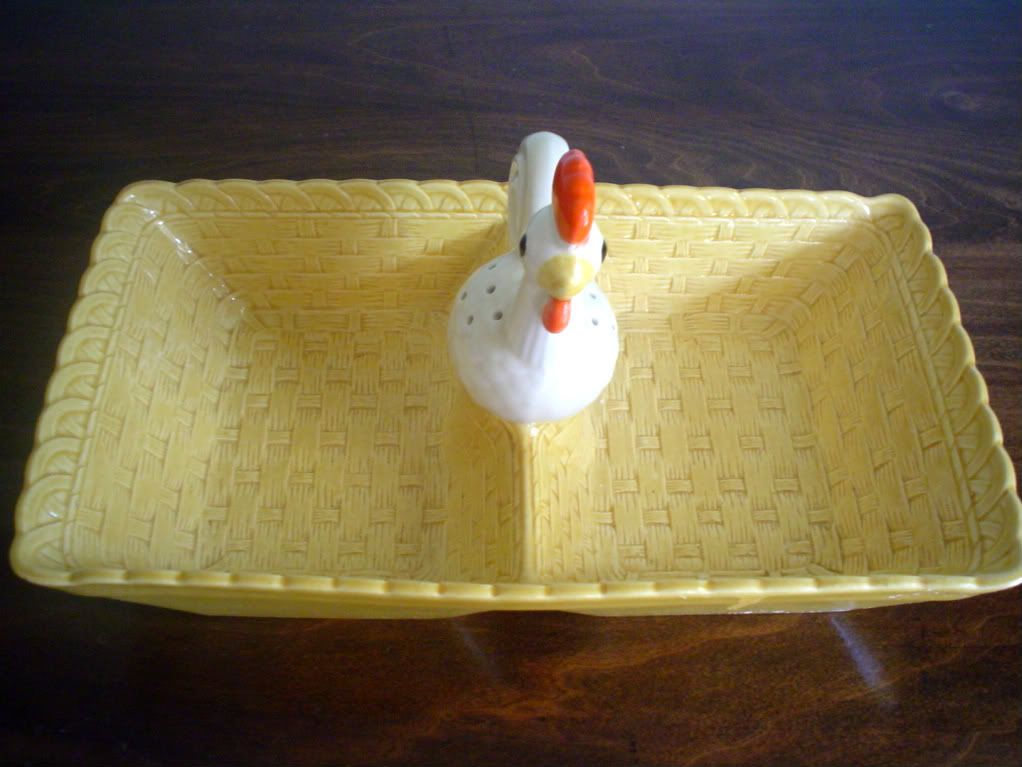 Believe it or not, he's a part of this pattern. Looks nothing like the painted rooster but this is the relish tray that went with this dinnerware. The olives, gherkins, cheese cubes, or whatever, were piled in each side of the tray and the picks to skewer them with were placed in the holes in the sides of the chicken.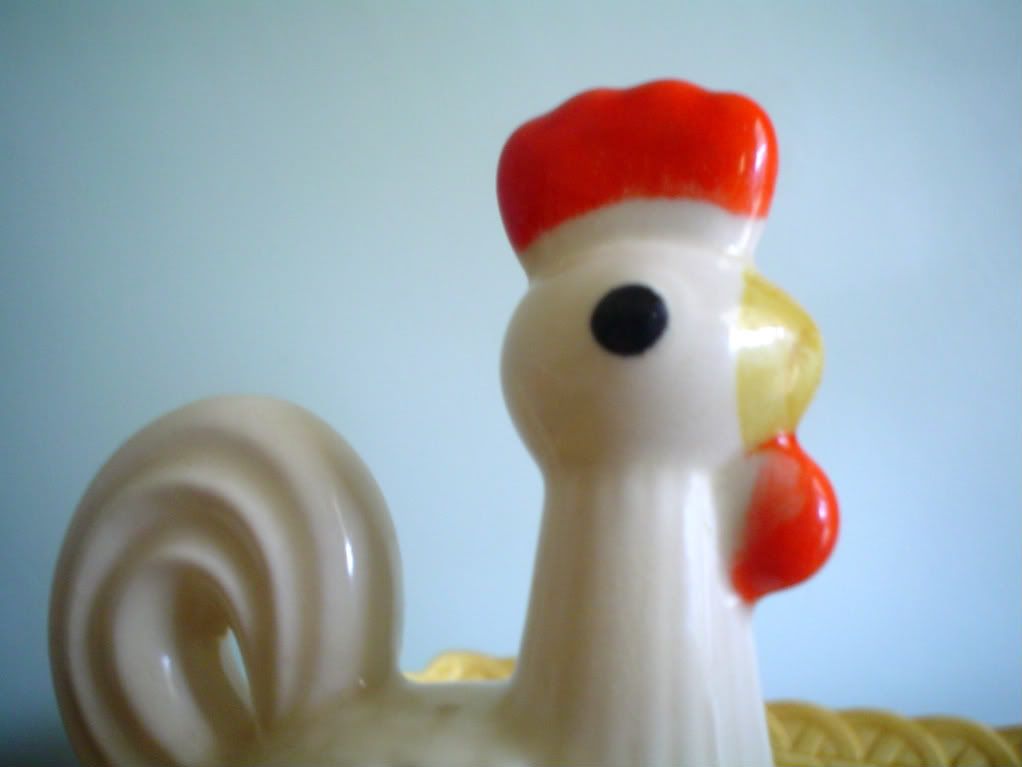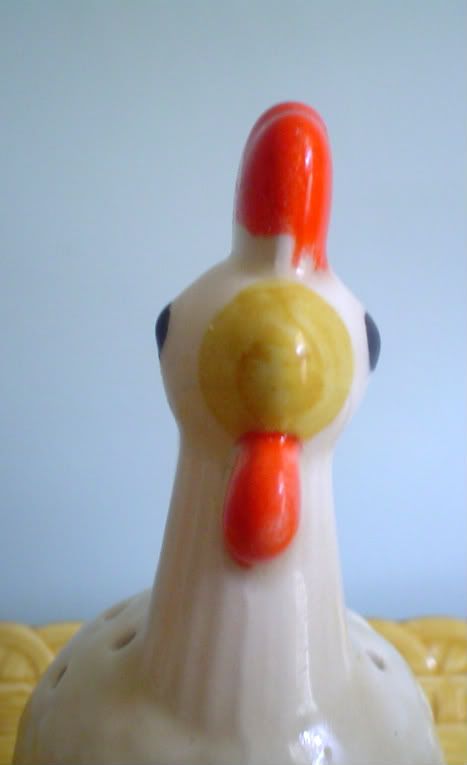 Doesn't he make you smile?!
WR